Freedom Hike
Join us at Sunrise (7:30 am), Sunday, October 8, 2017
Montara Mountain North Peak Loop Trail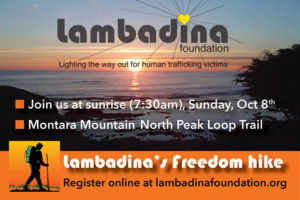 This year, in honor of our annual Lambadina Foundation Fundrasier, we are proud to present our Freedom Hike. As you may know, the Lambadina Foundation was created to help those who are victims of human trafficking. Please join us as we take a scenic, sunrise hike along the Montara Mountain North Peak Loop Trail and all come together to fight against human trafficking, which exists not only in third-world countries, but in the U.S. and the Bay Area as well.
Please save the date for our sunrise hike that will begin at 7:30 am on Sunday, October 8, 2017. We will trek for approximately 7 miles roundtrip, through gorgeous wildflowers and along the coast of the Pacific. Feel free to invite other family and friends, as we spread awareness of this growing epidemic taking place in our hometowns and residing cities.
There will also be special Freedom Hike T-Shirts available to purchase for $20 each. You can choose to order your t-shirt at the time you register for the event, or they will be available at the event.
Event registration fees:
Youth, ages 18 and under: $30 each
Adults, over age 18: $40 each. Register 3 or more adults at the same time for a reduced fee of $35 each!
---
Past Events
2016 Local Designer Showcase
Spotlighting Menlo Park's Best Designers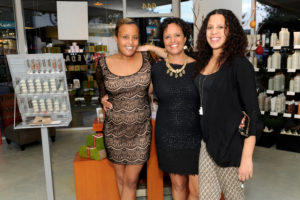 Sunday, December 4, 2016, 6-8 pm
Stephen Miller Gallery
800 Santa Cruz Avenue
Menlo Park
Each year La Migliore Salon hosts a public event and we continued our tradition on Sunday, December 4th at the Stephen Miller Gallery on Santa Cruz Avenue.
All proceeds benefited the Lambadina Foundation — lighting the way out for human trafficking victims.